2019 Maserati Levante vs. Porsche Cayenne | Mission, TX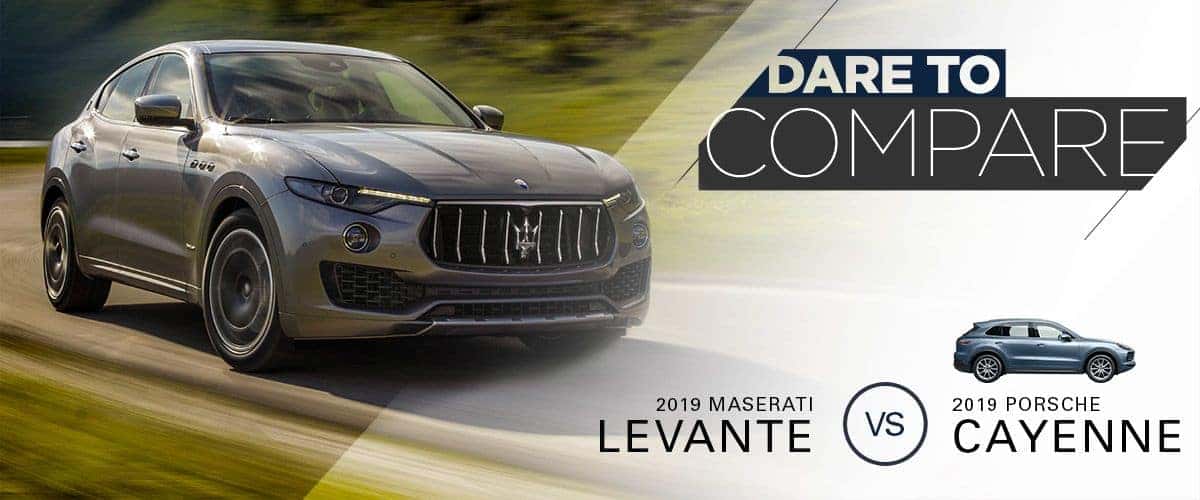 Two of the top luxury SUVs are the 2019 Maserati Levante and the 2019 Porsche Cayenne. Which of the two SUVs is the superior model? Our pick is the Maserati Levante.
Performance
The base engine powering the 2019 Levante delivers 345 horsepower and 369 lb-ft of torque. This is far superior to the 2019 Cayenne's base engine, which manages 335 horsepower and 332 lb-ft of torque. Not only is the Maserati engine stronger; it's also faster. The 0-to-60 mph acceleration time of the base 2019 Maserati Levante is 5.8 seconds, which is better than the 5.9 seconds it takes the 2019 Porsche Cayenne to hit 60 mph. The Levante's top speed with this engine is 156 miles per hour, 4 mph better than the Cayenne's 152 mph max speed.
The Maserati Levante's most potent engine beats out the Porsche Cayenne's top engine. The max horsepower you'll get out of your 2019 Levante is 590 hp, compared to just 541 from the Cayenne. The Levante's engine is also faster with an acceleration of 3.7 seconds compared to the Cayenne's 3.9 and a max speed of 187 mph compared to the Cayenne's 177 mph.
Standard features
With luxury SUVs, everything but the kitchen sink should come standard, and that's true for the 2019 Maserati Levante — but not for the 2019 Porsche Cayenne. The Levante gets a better standard sound system (280 watt and one year of complimentary SiriusXM) compared to the Cayenne's 150-watt system with three months of SiriusXM. The Levante also boasts an active air suspension with damping, limited slip differential, heated 12-way seats with memory, a power steering column, remote start and keyless entry, auto-dimming mirrors, and Blind Spot Monitoring — all standard on every Levante. Each of these options comes at an additional cost or is just not offered on the 2019 Cayenne.
---
The Levante at Bert Ogden Maserati delivers the performance and cutting-edge technology you expect from Maserati.