Buying New vs. Used | Mission, TX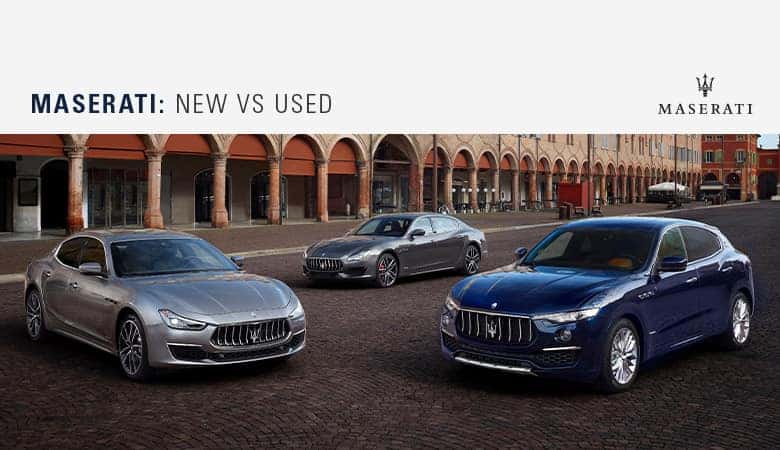 Maserati makes dream cars and SUVs, but they aren't always in everyone's budget. While driving home in a brand new Maserati model has no comparable feeling, Bert Ogden Maserati is committed to providing quality used Maserati vehicles to those with more limited budgets. Here are some perks to buying both new and used Maserati models:
Buying a New Maserati
When you buy a new Maserati, you have the privilege of being the very first to enjoy its opulence. You are getting the very latest in comfort and convenience technologies — the first to enjoy the cool breeze of the AC, the first to sit on the genuine leather, and the first to stream your favorite music from the advanced infotainment system. Buying a new Maserati means you will have access to the latest safety technologies; the lineup from Maserati includes several driver assist features meant to greatly reduce your chances of a collision.
When you buy your Maserati new, you will also get a more extensive warranty and are likely to encounter fewer maintenance needs in your first several years of ownership. That translates to more safety, convenience and money saved.
Buying a Used Maserati
Purchasing a used model at Bert Ogden Maserati in Mission, Texas, is a great way to experience the luxury of a Maserati without taking on as large of a monthly payment. The savings for many are worth it.
But, that's not all. Maserati has designed some incredible vehicles throughout its history. By buying a used model, you open yourself up to all those great models of years past, which may contain features that you love that are no longer offered on new Maserati models.
Maserati makes high-quality luxury vehicles, so even when buying used, you can be confident in their value. We always recommend getting a vehicle history report and having a trusted mechanic inspect a used model before purchase.
---
Contact Bert Ogden Maserati in Mission, Texas, to learn more about the incredible new and used Maserati models available on our lot.