Protecting Your Maserati from the Heat | Mission, TX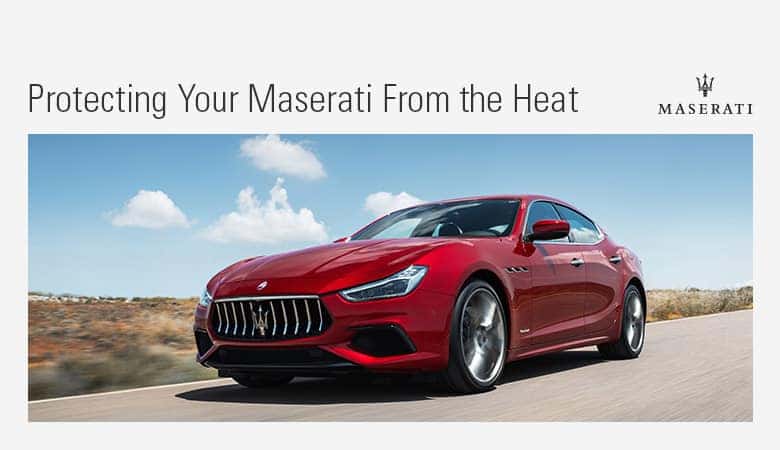 Here in Texas, the sun can be brutal — and not just for our skin. Long-term exposure to sunlight, especially as you get closer to the equator, can be very harmful for the exterior and interior of your Maserati. Here are a few tips from the service team at Bert Ogden Maserati in Mission, TX to protect your Maserati vehicle inside and out.
Protecting the Exterior of Your Maserati
To protect the outside of your Maserati car or SUV, the number one thing you can do is prevent direct exposure to the sun. This means you should always park it in a shaded area — ideally a garage or carport — when not driving it. When you are at work or school, attending an event, or out running errands and don't have a garage available, park under the shade of trees (but keep in mind you may need to wash your vehicle after to remove bird droppings).
You can also protect the exterior of your Maserati by regularly washing and waxing it. Washing the vehicle removes dirt particles that can damage the paintjob while waxing the vehicle is especially helpful for protecting against UV rays from the sun.
Finally, regularly check your tire pressure. Heat (and cold) can vary the pressure of your tires. Even being off by a pound or two in pressure can make it easier for your tires to go flat, which could lead to an accident (and subsequent exterior damage) on the road.
Protecting the Interior of Your Maserati
The sun can be just as damaging to the inside of your Maserati. If you must park in direct sunlight, use windshield and window sun protectors to reflect and soften the sunlight that seeps through to protect seating surfaces and the dashboard. You can also install seat and steering wheel covers to protect leather and regularly condition all leather surfaces to avoid cracks and tears.
---
For more maintenance tips and to schedule service, contact Bert Ogden Maserati in Mission, Texas.