Why Service at Bert Ogden Maserati | Mission, TX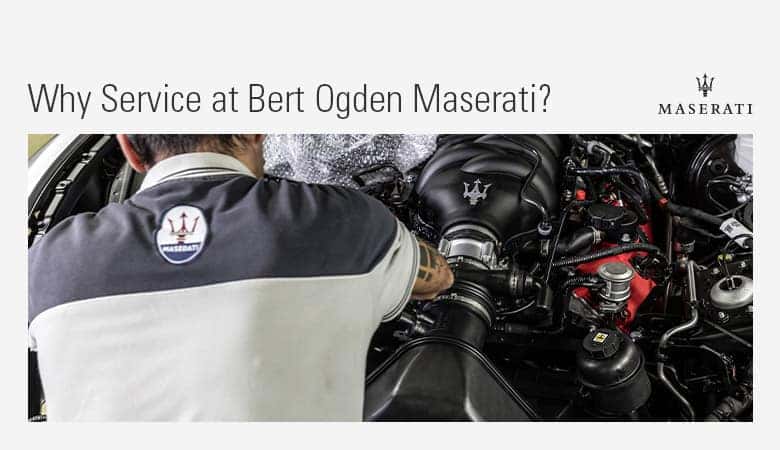 Keeping your Maserati car or SUV running safely, efficiently, smoothly, and reliably for years to come depends on routine service with a professional. But you shouldn't trust your dream car with any old mechanic. Instead, consider servicing your vehicle here at Bert Ogden Maserati in Mission, Texas.
Our technicians have special training
All Bert Ogden Maserati service technicians have undergone the same formal training that local garage mechanics have received. On top of that, however, they are specially trained to work on Maserati vehicles, using Maserati-provided tools. That means they are more prepared to pinpoint Maserati-specific issues and notice potential problems earlier, before they devolve into a danger while driving and expensive repairs.
We use genuine OEM parts
When you go to a local garage, the mechanics will use generic parts that mostly fit your Maserati. However, only Maserati dealership service centers use actual Maserati parts specifically designed for your vehicle, resulting in the perfect fit and proper functionality.
We prioritize customer service
We are ambassadors of the Maserati brand. As an extension of that brand, we hold its tenets of quality customer service close to our hearts. You will always be greeted with a smile and a warm welcome, and because we have a larger service bay than a local garage, we prioritize a faster service experience so you can be on your way. And while you wait, we will help ensure you stay comfortable, relaxed, and entertained in our cozy waiting area.
We honor warranties and repair for recalls
Your warranty only works at Maserati dealerships, meaning covered repairs will cost you money at local garages. In addition, we can always let you know if there is a specific recall on your vehicle and fix the issue for free; local garages do not offer that.
---
Schedule a service appointment at Bert Ogden Maserati in Mission, Texas.