Maserati MC20 Design | Mission, TX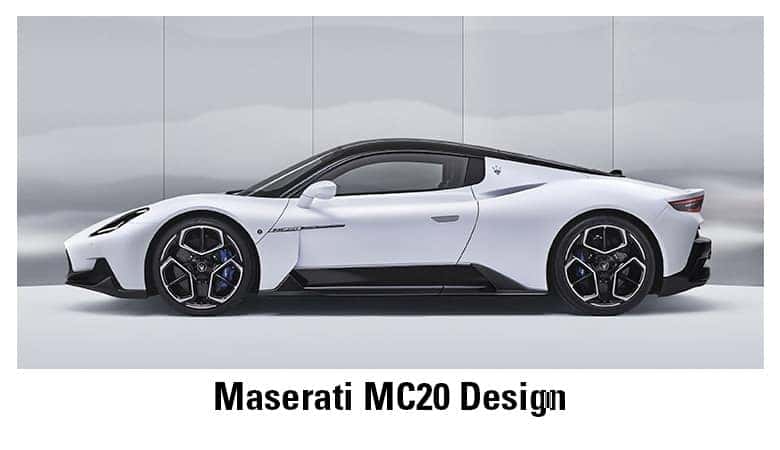 In the fall of 2020, Maserati started what it is calling a new era by unveiling the new Maserati MC20 in Modena.
Reportedly, the design of the MC20 is meant to reflect the historic identity of Maserati, blending elegance, performance, and comfort into the genetic makeup of the super sports car. Take, for starters, the aerodynamic profile of the MC20, which was fine-tuned over 2,000-plus man hours in the Dallara Wind Tunnel and through 1,000-plus Computation Fluid Dynamics simulations. All this work led to the sleek line and the discreet rear spoiler on the MC20.
Sleek and Aerodynamic
Aerodynamics also manifests itself in the design of the doors on the MC20. While luxurious and high-tech, the butterfly doors are about more than just appearances. Not only are they attractive, but they also make the MC20 more aerodynamic. They are also more ergonomic, allowing for greater ease in entry and exit.
Interior
The interior of the MC20 was designed to be driver-focused, including sharp edges and a simplistic layout. Two 10-inch screens are all you need for cockpit information and control of the Maserati Touch Control Plus.
Exterior
Exterior colors for the Maserati MC20 include Bianco Audace, Blu Infinito, Gialloa Genio, Grigio Mistero, Nero Enigma, and Rosso Vicente. These colors were developed exclusively for the MC20 and are meant to reference Italy and the role the country and its culture have played in the Maserati legacy.
Visually, the MC20 also references the MC12, which was the Maserati model that marked the brand's return to racing back in 2004.
---
Learn more about the Maserati MC20 at Bert Ogden Maserati in Mission, Texas.